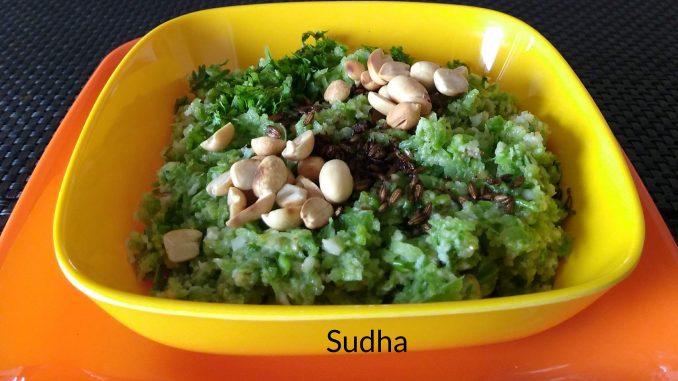 Padwal Koshimbir (पडवळाची कोशिंबीर) – Snake Gourd Salad
In Maharashtrians, Khanang Kakdi (Kakdi koshimbir – Cucumber Salad with roasted peanut powder) is very popular. This Padwal (Snake Gourd) Koshimbir is made using the ingredients used for Khamang Kakdi. Generally many people don't like Padwal. But if you make this Koshimbir, many will eat Padwal by choice.
Ingredients (Serves 2) (1 cup = 250 ml)
Padwal (Snake Gourd) grated 1 cup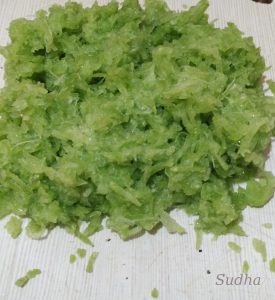 Roasted Peanut powder 1 tablespoon
Sugar ½ teaspoon
Crushed Green Chillies ½ teaspoon
Fresh Scraped Coconut 1 teaspoon
Chopped Coriander leaves 1 teaspoon
Lemon juice ½ teaspoon
Salt to taste
For Tempering / Tadka
Pure Ghee (Clarified Butter) 1 teaspoon
Cumin Seeds (Jeera) ¼ teaspoon
Asafoetida (Hing) a pinch
Instructions
1.Wash and de-seed Padwal and grate it fine. Do not remove the peel. Squeeze water from the grated Padwal. Don't throw away the water.
2. Mix grated Padwal with Crushed green chilies, roasted peanut powder, salt, sugar, scraped coconut, chopped coriander and lemon juice.
3. For Tempering, heat pure ghee in a ladle on medium flame.
4. Add Cumin Seeds, wait till sputtering stops.
5. Add Asafoetida (hing).
6. Pour this tempering over the Padwal mixture.
7. Mix well.
8. Serve as a side dish. It goes well with Roti, Paratha or Curd Rice.
Note
The water you collected after squeezing grated Padwal is very nutritious. Just add black salt and sugar to it and drink it as appetizer. It's tasty.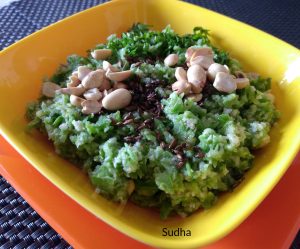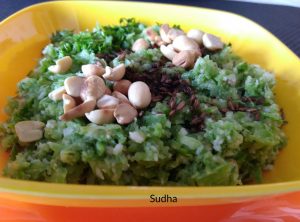 ==================================================================================
पडवळाची कोशिंबीर
कच्च्या पडवळाची कोशिंबीर फार चविष्ट लागते. बरेच जण पडवळ खात नाहीत. पण ही रेसिपी वापरून कोशिंबीर केली की कळत ही नाही यात कच्चे पडवळ आहे ते. रेसिपी आपल्या खमंग काकडी सारखी आहे. पण चव मात्र वेगळी आणि मस्त असते. 
साहित्य (२ जणांसाठी ) (१ कप = २५० मिली )
किसलेलं पडवळ १ कप
भाजलेल्या शेंगदाण्याचं कूट १ टेबलस्पून
लिंबाचा रस अर्धा चमचा
हिरव्या मिरच्या २–३ ठेचून खवलेला नारळ १ चमचा कोथिंबीर १ चमचा साखर अर्धा चमचा
मीठ चवीनुसार
साजूक तूप १ चमचा
जिरे पाव चमचा
हिंग चिमूटभर
कृती
१. पडवळ धुवून बिया काढून बारीक किसणीने किसून घ्यावे .
२. पाणी सुटेल ते काढून कीस थोडा पिळून घ्यावा .
३. कीस एका बाउल मध्ये घेऊन त्यात शेंगदाण्याचे कूट, मिरच्यांचा ठेचा , साखर , मीठ, नारळ , चिरलेली कोथिंबीर व लिंबाचा रस घालून एकत्र करावे.
४. छोट्या कढईत साजूक तूप गरम करून जिरे व हिंग घालून फोडणी करावी. ही फोडणी पडवळाच्या बाउल मध्ये घालून एकत्र करावे.
५. चविष्ट पडवळ कोशिंबीर सर्व्ह करावी .
टीप
किसाचे काढलेलं पाणी चिमूटभर मीठ घालून प्यायला छान लागतं.