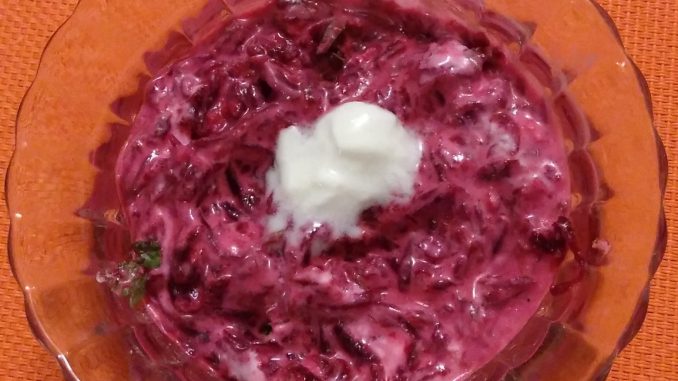 Beet Root Koshimbir (Raita / Salad)
This is my family's favorite Koshimbir. It's very easy to make this and requires very few ingredients. You can eat it as a side dish along with Roti or Rice. Or eat it by itself. It tastes awesome. We generally mix Curd in this Koshimbir. But it tastes nice without Curd also.
Ingredients
Beet Root Bulbs 3 medium size
Crushed Green Chilly ½ teaspoon
Sugar ½ teaspoon (or as per taste)
Fresh Scraped coconut 1 teaspoon
Chopped Coriander 1 teaspoon
Salt to taste
Curd as required
For Tempering (Tadka)
Pure Ghee (Clarified Butter) 1 teaspoon
Cumin Seeds (Jeera) ½ teaspoon
Asafoetida (Hing) a pinch
Instructions
1. Wash Beet Root. Cook in microwave on high for 5-6 minutes till they are little soft. Do not overcook. You can also cook in pressure cooker. But the taste is better when cooked in microwave And it also retains its bright colour.
2. When cool, peel beet root and grate.
3. Add Crushed Green chilly, salt, sugar, scraped coconut, coriander and salt. Mix together.
4. Heat ghee in a ladle. Add Cumin Seeds. When they sputter, add Asafoetida (Hing). Pour this Tempering on Beet mixture and mix well.
5. Koshimbir is ready. Serve it as it is or after mixing curd.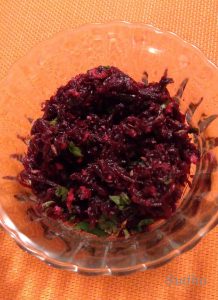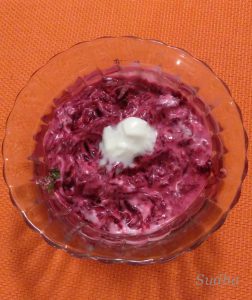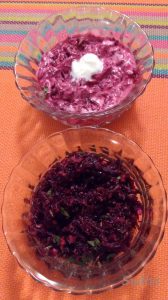 Note
If you want to give this Koshimbir in Tiffin, do not mix curd. Have it without curd or give curd in a separate container.