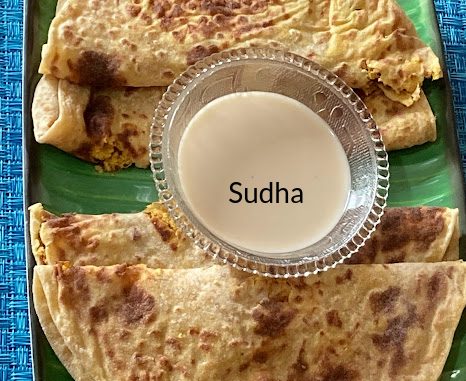 Puran Poli (पुरण पोळी) – Sweet Indian Bread Stuffed with Split Bengal Gram and Jaggery Filling
This is all time favorite sweet for most Indians. Puran Poli is made in different ways in different parts of India. In this recipe, Puran (filling) is made from Chana Dal (Split Bengal Gram) and Jaggery, while covering is a mix of Wheat Flour & Maida (All Purpose Flour) and Poli's are thin, soft and filled with lots of Puran. Filling is at least 4-5 times of the covering dough. It's a skilled job to make Puran Poli and one needs to practice to be able to make Perfect Puran Poli.
For everyone to understand the steps in the recipe, I've given photos of each step in this post.
If you don't have enough practice for making Puran Poli, take 1 cup of Wheat flour and Maida each instead of the measure mentioned in the recipe. This will make the covering little thick but will be good for beginners.
Ingredients (1 cup = 250 ml) (Makes 24-25 Puran Poli)
For Puran (Filling)
Chana Dal (Split Bengal Gram) 2 cup
Crushed Jaggery 2 + ¼ cup
Sugar 1 teaspoon
Cardamom Powder ½ teaspoon
Turmeric Powder ½ teaspoon
Oil 2 drops
Salt to taste
For Poli (Outer covering)
Wheat Flour 1 cup
Maida (All Purpose Flour) 1 cup
Salt a pinch
Oil 1 teaspoon
For dusting
Rice Flour 1 cup
Maida (All Purpose Flour) 1 tablespoon
Instructions
To make Puran (filling)
1. Wash Chana Dal.
2. Add 3 times water, ½ teaspoon Turmeric Powder and 2 drops of oil and pressure cook dal till it is soft
3. Drain the water from cooked Dal (we make curry using this; you can use it in any recipe as stock)
4. In a thick bottom pan, mix cooked dal and Jaggery and salt. Cook on low flame till mixture is dry. The test to check if it's dry enough is – the stirrer (Kaylatha or Jhara) should stand in the Puran without falling. Add sugar and mix. Making the Puran of right consistency is the most important step in this recipe. If Puran is wet, it will come out when you roll Puran Poli; if it's too dry, Poli's will break.
5. Allow mixture to cool a bit. When it is warm, then mash/grind it using Puran Yantra (crushing tool). It should a smooth mixture. Now add cardamom powder and mix.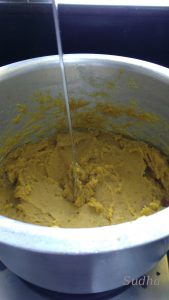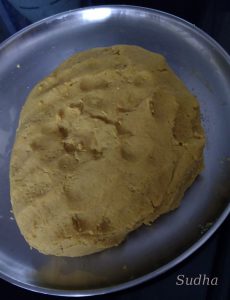 To make dough
1. Sieve wheat flour with a fine Sieve. This is important. Coarse flour will not make soft Puran Poli.
2. Mix wheat flour and maida. Bind it using water in a medium consistency dough
3. Keep dough covered for 2 hours.
3. Mix a pinch of salt. Knead the dough well. Use water while kneading to make the dough of very soft consistency. Add oil and knead it again. Dough should be like elastic – stretchable. This is another important step in the recipe. Keep the dough for 30 minutes.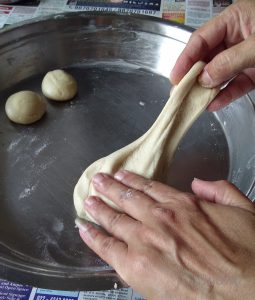 To make Puran Poli
1. Mix Rice flour and Maida to be used for dusting – let's call it dusting mixture
2. Take a small size dough ball – about 2 cm diameter. Take a tennis ball size Puran ball.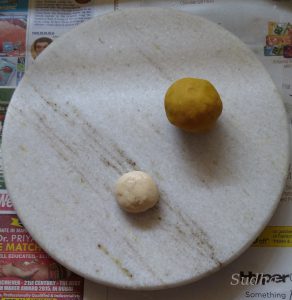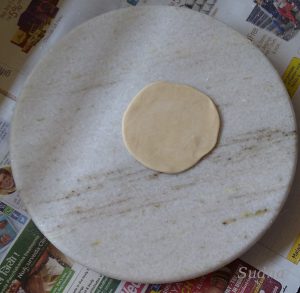 3. Stretch the dough ball with fingers in a small round shape Puri or roll a small Puri. Place the puran ball under the dough puri and use fingers of both hands to make dough ball completely cover the puran ball. One hand should push the dough downwards over puran and other hand should push Puran upwards. This requires practice. Once the Puran ball is completely covered with a thin layer of Dough, Seal the edges. We are ready to roll the Poli.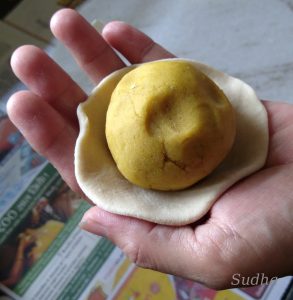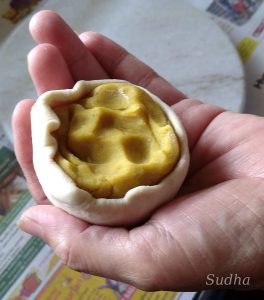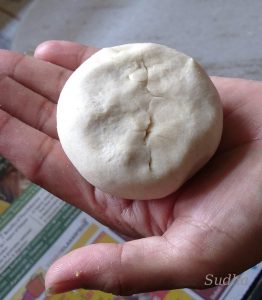 4. Dip the covered Puran ball in dusting mixture. Pat the ball gently with your fingers to make a round shape Puri. Now with rolling pin (Belan), roll this puri into a thin roti. Use dusting mixture as required. Don't flip over the roti while rolling. If you need to add more dusting mixture on the platform below the roti, roll the roti around rolling pin, spread dusting mixture and then put the roti back on platform; continue rolling.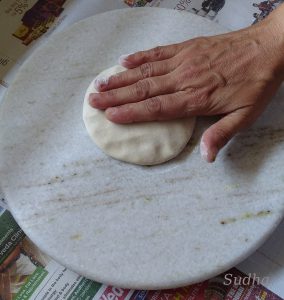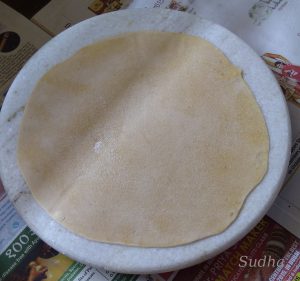 5. Once the roti is rolled, roast it on a hot non stick Griddle of medium to low flame. Use the rolling pin to transfer the roti to Griddle. Dust away the excess dusting mixture using a thin towel. Do not use oil/ghee (Clarified butter) or oil while roasting.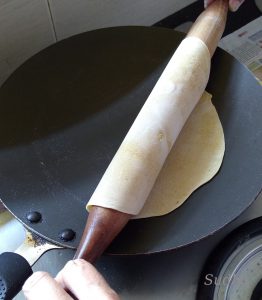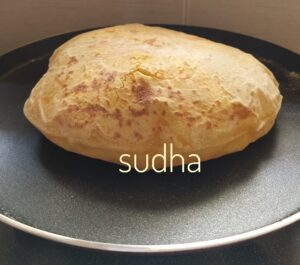 6. When both sides of roti are roasted; Puran Poli is ready.
7. Serve with Home made Ghee (clarified butter) or milk or coconut milk.
8. Puran Poli can be stored for 3-4 days without refrigeration.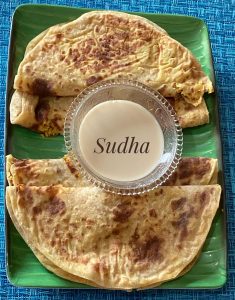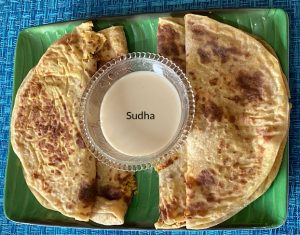 Note
1. It is easier to make Puran using Microwave. For details click on the following link:
Microwave Method for Making Filling for Puranpoli (पुरणपोळीचं पुरण मायक्रोवेव्ह मध्ये कसं करावं?)